Dental anesthesiology is the discipline in dentistry that manages pain and anxiety through the use of local anesthesia, sedation, and general anesthesia. The University of Pittsburgh School of Dental Medicine Department of Dental Anesthesiology educates graduate, pre-doctoral, and dental hygiene students in the management of pain, fear, and anxiety associated with dental treatment.
Department faculty are dentist anesthesiologists trained to provide the entire spectrum of anesthetic services, which generally range from local anesthesia through general anesthesia, for a wide range of dental and surgical procedures. Faculty research involving dental anesthesiology has focused on the clinical efficacy and safety of anesthetics when used in both healthy and medically-compromised patients. 
Advanced education programs offered in this department include a three-year residency program and an externship for interested third- and fourth-year pre-doctoral students. The Department of Dental Anesthesiology also offers elective coursework in the area of pain and anxiety management for pre-doctoral students.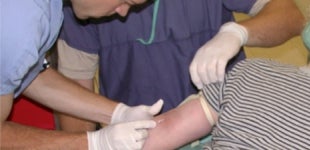 Department Information
Calendar
Gainful Employment Disclosure