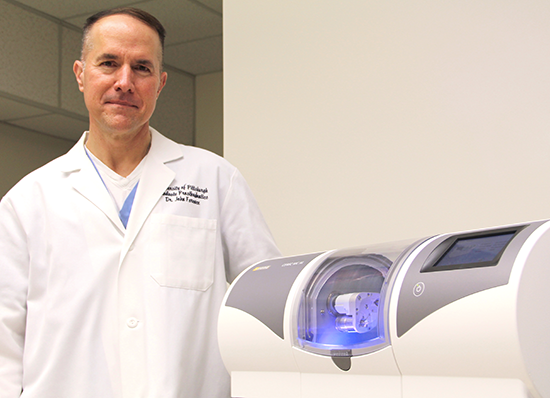 ADEAGies Foundation has awarded Dr. John Ference (DMD '00, Certificate Pros '03, MDS '04) the 2016 Gies Award for Outstanding Innovation by an Academic Dental Institution. The recognition took place at the 8th Annual ADEAGies awards on March 14, 2016 during the Annual American Dental Education Association (ADEA) Meeting in Denver, Colorado.
The award acknowledges the research done by Dr. Ference, who is an assistant professor in the Department of Prosthodontics. The purpose of this study was to compare the mechanical and physical properties of a 3D printed removable partial denture framework with traditionally manufactured frameworks. Additional research is planned. The studies are being performed in conjunction with Markus Chmielus, PhD, from the University of Pittsburgh School of Engineering. Noting the significance of this study, Dr. Ference adds, "We're turning the traditional dental model upside down after 100-150 years."
The research performed thus far by Dr. Ference and Dr. Chmielus involves the fabrication of removable partial denture frameworks through a 3D additive printing technique utilizing a sprayed metal alloy. During his initial research, frameworks were made to test the mechanical and microstructural properties of the alloy. The physical and mechanical properties were tested according to the ASTM standards and compared to the values of the metal alloy. Descriptive statistics (mean, median, standard deviations were recorded. Removable partial denture frameworks were tested for specific gravity, tensile strength, elongation, compressive strength, flexural strength, impact, and coefficient of linear thermal expansion. The physical and mechanical properties of the completed partial denture were very similar to the stated manufacturer's data sheet. In this in vivo study, fabricating a removable partial denture metal framework by additive manufacturing methods has merit.  The next phase of testing involves printing additional biocompatible metal alloy partial dentures and subjecting them to ASTM standards.
View the ADEA announcement here.